Cinema Vehicles -
1950's Vehicles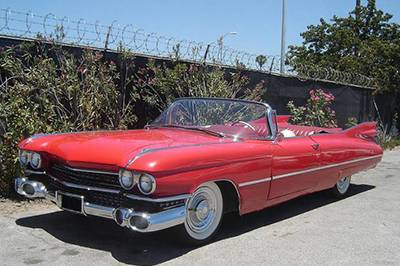 1950s Car Rentals
At Cinema Vehicles, we're here to serve your rental and cinema automotive needs. Since 1975, we've been renting out cars, offering vehicle transportation, and customizing builds, glass, and paint for major projects and productions. We provide services for television commercials, corporate functions, or cinema productions that call for vehicles both stock and custom.
Classic 1950 Cars
The United States made so many cars in the 1950s that vehicle sales composed as much as 25% of American gross domestic product. Cars were more affordable than ever and many Americans wanted the chromed beauties made in Detroit. Long, low, and space-age inspired styles were the norm, and innovative power accessories of all types came into use.
Cinema Vehicles Offerings
When you think of a 1950s classic, your first visual may be huge fins and powerful engines. If you're looking for these, we have tons of vehicles from the 1950s for your production including:
1954 Chevy Bel Aire
1952 Chevy Buses
1950 Ford Sedan
1957 Ford Voyager Station Wagon
1959 Cadillac Convertible
You'll find over twenty vehicles among our collection of 1950s classic cars.
Connect With an Automotive Expert
Cinema Vehicles offers
extended services
including body, paint, and glass for all of our cars. We can also transport,
integrate
, and rent space for your production in Los Angeles or Atlanta. Explore our 1950 cars, and discover the difference over forty years of experience can make for your production.
Contact
Cinema Vehicles to consult with a specialist in providing stock and custom vehicles for TV, movie, and commercial projects.
This category is empty.