Cinema Vehicles -
1940's Vehicles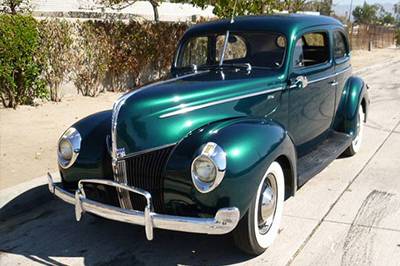 1940's Car Rentals
If you're looking for cars straight out of the 1940s, Cinema Vehicles has the builds you're looking for. From well-known classics to modified custom cars, we can help you imbue every commercial, movie scene, or television production with the retro feel it needs. We have a wide inventory of 1940s cars available for you, as well as production space for rent.
Classic Cars
In the 1940s the world was recovering from the Second World War, and consumer goods production expanded rapidly. It was an exciting time for auto manufacturers especially, as cars from overseas were making their way to the American market. All of a sudden, brand new body styles and designs were available to the average consumer as the market exploded with imports. The technology and metallurgy that went into 1940s vehicles also improved dramatically and laid the foundation of possibly the best classic car era that would follow in the 1950s. Automobiles became faster, more powerful, and more affordable.
Our 1940's Cars
1940s vehicles were the beginning of the great American car era. Our collection offers several models including:
1947 Dodge Pickup
1947 Ford Police Car
Several Chevy and Ford Pickup Trucks
1948 DeSoto
1948 Chevy Fleetmaster
In addition to these classics, we also have over twenty 1940s cars for your cinema rental needs.
We Are Here to Serve You
Since 1975, Cinema Vehicles has been here for you. We've expanded and changed with the evolution of the movie and television industries over the years, and we can customize cars for your every need. Explore our
expanded services
for custom paint, glass, and bodywork that ensures your production can hit the road.
Contact us
today for all your cinema car needs.
This category is empty.