Cinema Vehicles -
1920's & 30's Vehicles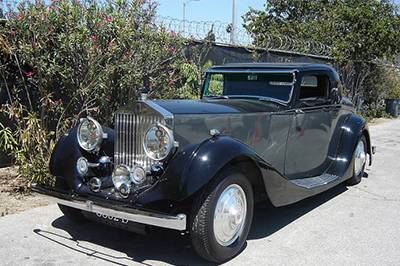 1920's - 193's Cars & Vehicles
Cinema Vehicles provides a variety of cars from the 1920's and 1930's for use in movies, television production, and advertisements. Vintage vehicles take a great deal of expertise and care to transport and maintain. Since 1975, our family-run business has ensured that you can confidently rent a 1920s car or later models to effectively meet the needs of your production.
About 1920's - 1930s Cars
1920's and 1930s vehicles come fairly early in automotive history. During that time, cars were becoming faster, more reliable, and slightly safer. While makers such as Ford emphasized affordable cars, there were many smaller firms who have long since gone out of business creating automotive masterpieces with considerable hand workmanship. Today these cars are becoming rarer and rarer, and examples which have not been highly modified and retro-modified are some of the most desirable and difficult to find for original production needs. Our fleet of period cars will satisfy your every cinema production need. They can be main features or fit well into the background for complete period accuracy. Please call or connect with us to rent our 1925 Ford flatbed Model T truck, 1930's Graham sedan, 1935 Rolls Royce, and other cars of this period.
Entire Range of Services
In addition to 1920 cars and 1930 cars for your use in cinema production, we also can also do custom
corporate builds
. Our
extensive service capabilities
ensure that your vehicles are integrated to slip seamlessly into your production. We offer mechanical, upholstery, transportation, paint and body, glass, and even production office rentals. We are the right partner for productions which rely on special, historical, hard to find, and period correct automobiles.
Contact Cinema Vehicles
These 1920s and 1930s cars are just the beginning, our services and offerings are extensive. See our full list of services for how your production can benefit from our experienced automotive technicians and engineers. We have offices in Los Angeles, Atlanta, Contact us today to connect with an automotive specialist for any questions you may have after about meeting the needs of your production.
This category is empty.