Whatever your experiential marketing needs are, from trade shows to annual events and marketing tours we can custom create any vehicle or signage from concept, sketch or storyboard. Our fabrication team is the best in the business with a full offering of custom molding and graphics, paint and body, upholstery and glass, and mechanical services.
Our Coporate Services
Custom Builds
Our fabrication department can bring your ideas to life, designing and building a custom vehicle that effectively promotes your brand while creating a fun atmosphere for guests and engaging your key customers.
Signage
Our on-site graphics department uses the latest technology to create eye-popping visuals that with catch the attention of your target customer. We can meet all you brand-specific graphics and display needs, including any point of sale materials.
---
Specialty Printing
Our graphics department can print on a wide range of materials to meet all your custom fabric and upholstery needs. Combined with our in-house upholstery shop, we can print any design, logo or theme on seats, cushions, chairs and more.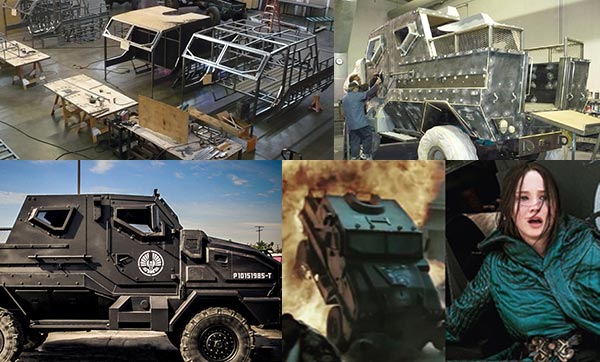 Builds for the 'Hunger Games'.
---
Inquire About Our Services
Contact us or give us a call @ 818-780-6272, we will be happy to fulfill your production needs!