Our paint and body shop can accommodate the largest and most intricate jobs with semi- and tractor -capable paint booths and the most highly skilled craftsman in the business.
From custom jobs that require exact precision to quick 'scuff and shoot' paint changes for last minute film and television jobs, we specialize in high-end peel coats, custom paint, vehicle color matching and bodywork.
Services We Offer
Collision Repair
From typical production wear and tear to crash-scene damage, our body department works quickly to repair anything from minor dings and dents to full frame straightening and body panel replacement.
Commercial & Recreational Vehicle Paint
With the largest paint booths in the business including our 55 foot booth, Cinema Vehicles Paint & Body can handle any job, no matter the size.
---
Custom Paint
We have the largest selection of pantones and can match any color flawlessly, whether factory or custom. Going for that 'show car', 'old school', or exotic look in your next production? Our team specializes in full restorations, airbrushing and pinstriping.
Peel Coat
Need a temporary color-change option? Our peel coat services allow you to change the color of a vehicle and then remove it, leaving the original finish intact. We can peel coat anything from automotive to marine and aviation.
---
Picture Vehicle Prep and Matching
Whether your production requires two or twenty matching vehicles, or an exact replica of an existing vehicle, our craftsman can accomplish the job with precision.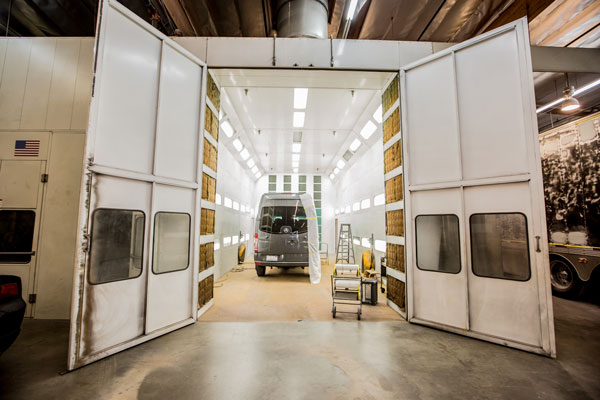 Semi-truck and tractor-capable paint booths
---
Inquire About Our Services
Contact us or give us a call @ 818-780-6272, we will be happy to fulfill your production needs!